I was honored to be asked to submit a post to explain Embryo Adoption at
Give1Save1-Domestic
's website. This is a sister site to the several Give1Save1 websites. Each site is a place for adopting families or families who are researching or who have already adopted to go for information, encouragement as well as encourage others. Each site also highlights an "adopting family of the week" who is in the process of fundraising for their adoption. Each family has submitted a short 3-5 minute video of their family and their journey. The idea is that peeps go view the video and if they feel that they can, click the button and donate $1. That's it. $1.
You may not think that is much, but as hundreds of people give just $1, the total adds up quickly! The family usually has daily total videos they share and those are always heartfelt and fun. Our family has been blessed to "meet" and assist other adoptive families since we found the site a few months ago.
Head on over to the Africa site to see
this week's featured family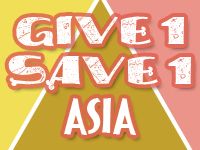 Here is the link to
this week's family adopting from China.
Here is the link to
my guest post
.
If you can't give $1, that is fine. Spread the word. Go watch the videos. They will encourage you as the families share their hearts. You can offer prayers. All of us who have been on the road to adopting a child will remember the days of waiting for your child to come home. Take a moment and see for yourself!